Which Team will Win Super Bowl 52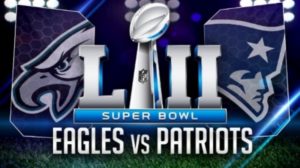 Which team is going to win Super Bowl 52?
Eagles or Patriots.   Unless you are a fan of either of those teams do you really care who wins the game?   I don't really care who wins I just want it to be a good game. Want The commercials to be good.  I want the announcers to not suck. The coverage to be good and no blackouts.  That has only happened once so not really likely to happen again.
As I am watching the build up to the Super Bowl it is actually not that bad this year.  The coverage earlier in the day was alright.  Coverage surprisingly by NBC has been pretty good.  I say that because if you have ready any of my columns from before you know that NBC announcers are probably my least favorite.  Which is saying something since a lot of them are just not good.
They have had some great stories.  The story about Joe Gibbs and Doug Williams was fantastic.  It is hard to believe that happened 30 years ago.  I can remember watching that game like it was yesterday.  I was a senior in college at the time of that Super Bowl.  Amazing how time flies.
Has the Super Bowl for you reached the point where it is a marker of things in your life?  Do  you remember where you were and what you were doing on the day of certain Super Bowls?   I don't for all of them for for a good portion of them I do.
It will make a difference how you remember the day depending on which team  is the winner.  So saying it does not matter who wins this game was not the complete truth.  It will matter when we look back on this game in future years.
So let us know in the comments who you want to win this game and why.