Bowl Season is upon us in the week that was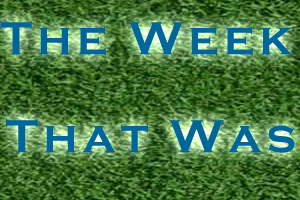 Bowl Season is always very interesting.  It seems to come more quickly than it used to.  That could be because there are so many bowls now.  I have heard people complain that there are to many bowls.  Could be  but I really don't mind.  For those that have a problem with how many bowls are out there.  I have a simple solution.  Don't watch them.  It really is that simple.  It works that way with any thing that is on television.  If you don't like it just don't watch it.
I have no problem with the amount of teams that make the bowl season.    Clearly at least most of the bowls are making some kind of money.  If they weren't then they would not keep the bowl.  It really is a nice reward to a long hard season.  Hey you did alright you get to take a trip and play in a bowl.  Who cares where the bowl is played it is still a free trip somewhere.
There were 5 bowls this past Saturday to start the Bowl Season.  None of them were big name teams but they were all pretty good bowl games.  There will be a plethora of games as the next few weeks continue.  Football almost every day.  Priceless.
NFL Playoffs, Replay and the Catch Rule
For the firs time in eight years the Green Bay Packers will not be part of the playoffs.  Everything must end at some point.  The Patriots clinched with a crazy win over the Steelers.  This game showed us a few things.  The Steelers and Patriots are very closely matched teams.   The catch rule needs to be rewritten and replay should be abolished.
I know that the ruling on the Jesse James catch was to how the rule is written.  How ever in no world should that have not been a touchdown.  It was a problem a few years ago with the Des Bryant catch and it is still a problem today.   Replay has shown that they get as many wrong as they get right.  It slows down the game and it takes a lot of the human element out of the game.   There is no way that every call is going to be correct.  So I say just deal with it.  Some calls will be wrong it does not matter if you have replay or not.  So go with the simpler solution and get rid of replay.
A botched replay could end up costing the Lions a play off spot.  If they end up tied with the Falcons then Golden Tates over turned touchdown will be the difference and will cost the Lions a playoff spot.  I guess you could argue the same could happen with the calls being made without replay.  For me it would be much easier to handle.
That is it this week.  Got a late start and my brain is fried.
Check out last weeks post here