Collage Football is in the crazy Season – The week that was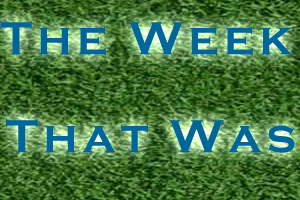 College football is getting into the crazy season.  NACSAR is finally wrapping up.   The NFL is starting to head toward the playoff run.  Jerry Jones is making threats that there is no way that he can back up.  Can't blame players for trying to make a buck but do you really have to be an ass about it.  The past week has some really interesting things happen.  Not sure how they are all going to play out but it will make for some very interesting viewing.
When you should not throw the red flag
John Fox the coach of the Chicago Bears showed why he booted from Denver.  In a game between the Packers and the Bears.  In what was a blown call by the refs (hardly a surprise) in a close game.  Benny Cunningham took a pass from Mitchell Trubisky and stretched out to try and score a touchdown.   As he was reaching out for the pylon the ball came lose and he fumbled it out of the end zone.  The refs called him out around the 2 yard line.  Replays were showing that the out of bounds call was questionable but clearly showed that Cunningham was fumbling the ball.    Great luck for the Bears that he stepped out.
Except for one thing.  John Fox in his great coaching wisdom decided that he would challenge that call.  Thinking that it was a touchdown the hard luck Bears would make this a game.  For some reason Mike McCarthy had no thoughts of challenging the call.  Which is odd since it was looking like it was going to be a turn over and the Packers would get the ball.
Maybe McCarthy knew that his counter part was going to make the challenge.  Sure enough Fox flips out the challenge flag.  The refs actually get a call right and it is Packers ball at the 20 yard line.
Yes it is true John Fox in all his coaching prowess challenged a call and he was correct that the refs got it wrong.  But they got it wrong that Cunningham was out of bounds.   Way to go John Fox all the Packers fans should send him a box of depends.  Since it always looks like he is crapping his pants when he has to make a decision.
Small Giants
The only thing saving the Giants from absolute NFL futility.  Is the Browns.  The Giants are tied with the 49ers for the second worse record in the NFL.  The Giants and the 49ers each have one win so far this season.  The Browns have a grand total of ZERO wins so far this year.  While the Browns were expected to not be very good.  the Giants were being picked to go to the playoffs by a lot of "experts".
How did it go so wrong for the Giants.  There coach Ben McAdoo has certainly not helped.  Maybe he was not ready to be a head coach.  Or maybe Eli Manning is not the quarterback that people thought he was.  Maybe Odell Beckham has finally distracted the whole team with his antics.  Nah we know even though that stuff does not help it is not what has caused this massive fall.
The Giants should not be this bad but they clearly are.  They have had horrible play on both sides of the ball.  It is bound to happen to every team at some point.  This is just the year for the Giants.  How can they fix this?  This year they can't.
The Crazy fun Mess that is College Football
In the Week that Was College football was a fun chaotic mess.  Unless you are a fan of Notre Dame and Georgia.  Well Georgia still might be alright but Notre Dame and the PAC – 12 they all saw their chances for the College Football Playoff slip though their fingers.  Actually they may have damaged Georgia as well.  Since Georgia beat Notre Dame by one point and Miami destroyed them.  That win no longer looks as good for Georgia as it did last week.  The only think that would have made this weekend even better would have been if Mississippi State could have held on to beat Alabama.
If you want the Playoff to change then you really need to hope for this type of chaos over the next few weeks.  I guess even if they do not change it. This does make for a lot of excitement in the College Football world.   What will not make for much excitement outside of Alabama and South Carolina is if we end up for a third year in a row with Alabama and Clemson.  Of course if we don't want that to happen then other teams need to step it up.
NASCAR Almost Done
The season is finally down to its final week.  The final race at HomeStead-Miami speedway will have four drivers competing for the championship.  They are Kevin Harvick, Kyle Busch, Martin Truex Jr. and Brad Keselowski.  Which one will win?   Who knows with all 40 cars on the track it is still a crap shoot.  The real story will be that this is going to be  the last race by Dale Earnhardt Jr.   He has had an amazing career and the sport will miss him on the track.   With ratings on the decline NASCAR is going to need a young driver to step up and build the sport.   Chase Elliott is probably the best candidate.  Having a built in following from those that followed his dad.  It will still be an uphill battle and he is going to have to put up some huge wins to get there.
If Kevin Harvick is the winner here it will be good for him but bad for the sport.  Harvick is truly one of the most unlikable drivers in the sport.  Granted he is a good driver but he does not have the ability to attract fans to the sport.   He is neither polarizing or interesting as a driver.  This is nothing against him.  It just is what it is.   He represents why people are moving away from the sport.
Wrap up
Check out last weeks post here.  Last week Our site was hacked.  I think that we have everything back to normal.  For some reason when they got in they just disabled everything that we had on the site.  Not really sure what their plan was with that.  Maybe I caught it before they had finished what they were trying to do.
This week is going to be very interesting and a lot of fun.  Lets hope for some big upsets in college football.  Well they are not going to happen in the SEC since they are taking a break to beat up on some teams that have no chance.   People are complaining about Wisconsin and their schedule yet the SEC gets a pass for scheduling a practice that counts in the standings.