NBA All Star Game The NFL and Winter Blues
The NBA is almost to its half way point.   That means that it is time for the NBA all star game.  If you want to know how I really feel about all star games read this.  Why do we have All Star games.  I will give some props to the NBA for trying to do something newish.  It is new for them but the NHL has done this before in their all star game.
With the new rules the draft is a little involved.  You can read about the details here    .  I really am fine with what ever they have decided for the all star game.  It really does not matter since it is a meaningless game anyway.  The strange thing about it is that they are doing a blind draft.
Blind draft.   WTF – Why The Face?   Yes a blind draft so that no ones feeling get hurt.   I mean really what if one of these highly compensated players were to get picked last.   If that were to happen then I am sure that the emotional damage would be to all encompassing for anyone to over come.
Now keep in mind we are not talking about grade school children.  We are talking about grown adults.  Grown adults that have full time jobs.  Grown a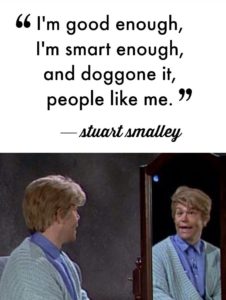 dults that get paid very well for what they do.  Adults that we pay as fans to do what they do.
Keeping all that in mind.   They had to hide the way the players are going to be picked so that no ones feelings would be hurt.  Are you kidding me.   Say that again.  They had to keep the draft secret so that no ones feeling should be hurt.   Maybe they need to hire Stuart Smalley for some image training.  I am sure that he would be able to help them out.
I don't understand what is going on in the NBA with all the kid type attitudes that they seem to have.   No one seem to be taking responsibility for their actions.  I guess it is pretty much mirroring society at this point.  Watch out whos feelings you might hurt.
If the NBA was so worried about who ever would get their feelings hurt.  They should have done this game very differently.   Not that it really matters since it is a game that has zero meaning anyway.
How many of you are planning to watch the NBA All Star game?  I have not watched one in years.  I have watched the skills competition which is actually pretty interesting.  The game itself not so much.
Over all the ratings for the NBA are up this year.  Up pretty significantly.   How ever the strangeness that is going on with how the players feel about their teams and their image is not going to be able to continue.  At some point the fans will start to tune this stuff out.