Thanksgiving for a great week – The week that was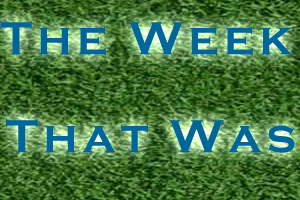 It was a very interesting week in football.  There are many things to be thankful for this Thanksgiving week.  Of course that depends on what team you are rooting for.   If you are an Alabama or Michigan fan.  You may not be so thankful this week.  Things are starting to shape up in the college football playoff race.  Or are they?  They may have gotten muddier.  Thanksgiving week brings us three Thursday games rather than the usual one.  Funny how the players don't complain about that one.  The Jerry and Roger spat seems to have quieted down a bit this past week.  Probably just too much going on for the holiday.  More likely the other owners told Jerry this is not just your league so stuff it.  I think that is highly likely.
Thanksgiving NFL Rules
The NFL started off Thanksgiving right.  There were two great games and one dud.  The one, was only a dud if you are a fan of the Cowboys.  If you are an anti fan of the Cowboys then it was also a great game.  With all the acclaim that the Cowboys came in to the season with it seems it is just not working out for them this year.  At 5-6 this year it is becoming highly unlikely that they will make the playoffs this year.  With the suspension of Zeke they have lost a step.  Dak has also not been as sharp as he was last year.
Some of this can be attributed to the lack of cohesion in there offensive line this year.  Some of it can also be attributed to the dreaded sophomore slump.  I would actually say that Prescott is not really having a sophomore slump but more that he was not going to be able to keep playing at the level he played at last year.  This does not mean that he will not be able to get to that level again.  Just that very few players are able to stay at that level this early in their career.
Vikings Pulling Away
The Vikings are much better than I thought they would be this year.  I thought they would be a pretty good team but it seems like they are putting things together at the right time.  Of course it helps that Aaron Rodgers went down for the season.  They are taking advantage of the Packers loss and running with it.  The Lions could just not hang with the Vikings in the Early Thanksgiving game.  It was not a bad effort by the Lions the Vikings just out classed the Lions.
The late game between the Redskins and Giants was pretty entertaining considering neither team really has much to play for anymore this year.  The Giants have been out of the playoffs and the Browns are completely out classing them for the first pick in the draft.  They have nothing to lose either way.
Teams that are out
These teams have no chance of making the playoffs Jets, Dolphins, Browns, Colts, Broncos, Giants, Bears, Buccaneers, 49ers.  They can all start getting ready for next year.  Now is the time t really start looking at what they have and what they need to replace.  Other teams that are more than likely out but could still put it together Bengals, Texans, Cowboys, Redskins, Packers, Cardinals.  It is possible for these teams to make it but not very probable.  A lot of things would have to fall into place for them to make the playoffs.   For the Packers they would have to win out.   They played well against the Steelers and then with one poor coaching decision (going for a 57 yard field goal) their shot at winning the game was taken away from them.  So be it I guess.   They played much better than many had expected.
The run to the playoffs will be very interesting.  In the next few weeks some coaches will start to fall and we will see some interesting things happen.
College Football Chaos
Two of the top four crash and burn.  The last time the AP number one and two teams lost this late was in 2012.  For those of us that love to see a mess at the end of the season.  This is great.   This is what makes the season very exciting.  Alabama was really just going off the fact that it is Alabama.  Who have they beat this year?  No one.  The only team they played that has been any good was Auburn this past weekend and they lost.
People are saying that they will still possibly get into the playoff.  Just like Ohio State last year this would be an odd decision.  I do not think that in the current format a team that does not win its conference should be in.  I know, I know the eye test.  This team (pick one) just deserves to be in because we subjectively decided they were better than another team.  If that it going to be the case then just go back to the days when the Championship was decided by the polls rather than on the field.
Tennessee Crash and Burn
With all the excitement on the field this past week.  Tennessee decided that they did not want to be left out.  They hired and unhired Greg Schiano.  The accusations against him by the fans of Tennessee have never been substantiated.   Tennessee letting the fans decide who they should hire will create a huge problem for them.  If he did hide information then he never should have been considered.  There is nothing that shows that he actually knew anything about what was going on at Penn State.
The problem for Tennessee now is that with the way they handled this.  Who in their right mind is going to want to go coach there.   No one that has any real experience is going to want to take the job.  The other problem is that with all the uncertainty it will be very difficult to recruit players to come there.  There is just way to many options for the top tier players.  With things such a mess no one is going to want to deal with the chaos.
At least UCLA knew what they wanted and went for it with Chip Kelly.   With the amount of talent he will have available to him.  He should be able to turn UCLA into a strong contending program very quickly.  The PAC 12 has been down the last few years.  With Kelly at UCLA that will change.
A Rose by any other name
It has been a bad week for those with the last name of Rose.  Both Charles and Derrick have had a tough week.  Of course for very different reasons.  Derrick just does not seem to be in it anymore.   It looks like his desire to play is just done.  It was a nice experiment by the Cavaliers and if it had worked out then it would have been a great pickup.  For it to work out though Rose would have had to want it to work out.  There is nothing wrong will worrying about your body and how you will live the rest of your life.  If you are going to do that though.  Don't string the team along.  The Cavaliers are starting to put it together now they really don't need Rose.  You tried it did not work out.  Time to move on.
Full and Feeling it
It was a great Thanksgiving week.  Lots of Football to watch.  Most of it was really entertaining.  This is a case where Thursday Football is fantastic.  Then Friday, Saturday and Sunday football.   I love this part of the season.  All the racing to the playoffs are playing out.  Teams that are out of it are preparing for next year.  It is truly a great time of the sports year.
Check out last weeks post by clicking here