Subjective – The ins and outs in the week that was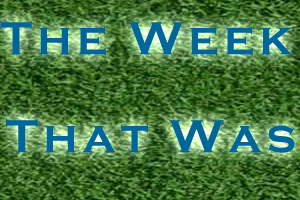 The regular season in college football came to an end.  Now it will be on to the bowl season and the college football playoff.   Tiger Woods made his big comeback.  I know I was wondering if it would ever happen.  Then when it did happen how it would go.  The NFL offered money that players can use for social causes.  The players response?  This is just hush money.  Yes of course it is.  Did you really think it was something else?  I had no doubt that there would be any other response.
College Football Playoff
Okay who out there thinks that the College Football Playoff Committee made the right choice by putting Alabama in?  I am sure that The Ohio State University does not think the committee made the correct choice.  Of all the people that are involved in this they have the least right to complain.  Last year they were in a similar situation.  They did not win their Conference they did not even win their division.  Yet the committee put them anyway.  That turned out to be a horrible choice.   Alabama this year had a horrible strength of schedule.  The only strong team they played this year.  They lost to.  That team then got destroyed in the SEC championship game.
I can see the logic in putting in a one loss team over a two loss team.  But really what it comes down to is that if you do not win your conference you do not deserve to be in the playoff.  The other thing is don't have a 31 point loss on your schedule to a mediocre team.  With the Ohio State loss to Iowa by that margin it really took them out of the running if things were close.
They could have still lost that game and gotten in if it had been a close loss.  It was not.  They looked horrible in that game and got run out of the stadium.  This team has had a propensity to have bad games like that.  Look at their loss to Clemson in the playoff last year.  The committee says that they do not take last year into account but you know it is sitting in the back of their minds when thy are making these discussions.
I am alright with the teams they did put in.  Clemson, Alabama, Oklahoma and Georgia.  You knew at some point there was gong to be two teams from one conference.  The SEC was not that good over all but the teams at the top were at the top of the pools all season.
Will Tiger make it to the next tournament
Tiger Woods made his big comeback this weekend.  He actually played alright.    In the Hero World Challenge he finished tied for 9th in an 18 player field.  At 9 under you would have to say that this is an accomplishment for him.   Of course the question is not if he can play through one tournament.  It is can he do it week to week.  There is no way for us to know how well his back will hold up.  I don't know if Tiger will be able to get anywhere close to the Tiger of old.  Maybe he can but more likely he cannot.
It will be possible for him to have a crazy weekend where the Tiger of old does show up.  He will probably win again on the tour.  Not sure if it will happen in a major tough.  It is pretty clear that Golf needs Tiger to do alright and at least make several cuts.  Like NASCAR the PGA ratings have been down.  Unlike NASCAR they have an ace in the hole with Tiger.  If he can put a string of alright round together the ratings will go up.
NFL – Push for the Playoffs
In the AFC the Patriots, Steelers and Titans are all looking good to make the playoffs.   In the AFC West i is going to be a crap shoot.  It looks like the Chiefs have lost all of their mojo and are on a long slide to oblivion.  The question is will the Raiders or Chargers be able to take advantage of that slide.
In NFC a 10 win team may be out
In the NFC there will more than likely be a 10 win team that will be left out of the playoffs.  The Vikings, Eagles and Rams are more than likely in.  In the NFC South the only team that is out of it is Tampa Bay.  It is possible that the NFC South will get three teams in with the Saints, Panthers and Falcons.   However the Saints and Panthers are on an upswing and the Falcons are muddling around not looking like the same team as last year.  They have had their moments but have clearly lost something.
The question is will any of the 6 -6 teams be able to move up.  The Lions, Packers and Cowboys are all at 6-6 and have to potential to make it there.  The Packers just need to beat Cleveland and then at 7 – 6 they will be looking like they have a chance.  They will need some help from Atlanta to get over that hump.  The Falcons have the tie breaker over the Packers due to their win in week two.  With two games against the Saints and a game against the Panthers it is possible that the Falcons finish the season 1 – 3 with their only win coming against the Buccaneers.
The fall of the Giants
In a surprise to no one except maybe Ben McAdoo and Jerry Reese the Giants fired them both on Monday.  They took an 11-5 team from last year and have almost turned them into the Browns.  The slide of the Giants was dramatic and there was no way that their jobs were going to be saved.  They like the Buckeyes have no one to blame but themselves.  While I don't disagree with the benching of Eli Manning it was very odd the way it was handled.  If they had handled it better would it have saved their jobs?  Probably not.  Eli has not been playing well since last season.  The Giants have not helped him in any way though.  So while he has been bad the Giants coach has been worse.
Fall Television end of the Fall Season
It is always a bummer when the fall television season comes to an end.  Seems like you are just getting into the shows and then they go on a break.  I was going to go into a long complaint about how they do this too us every year.  Seems to have run out of time and just have to get this posted.  I will get to this next week.