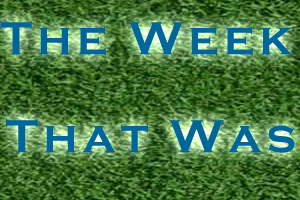 In the week that was College football was a little light on the big games this week.  There was only one big game and it was not even that big of a game.  NASCAR finally finished its season.  Who even remembers the beginning?   The NFL is getting crazy and the games were pretty good too.  College basketball is underway and for the first time in many years there will not be a Rick Pitino coaching.  About time on that one.  The NHL and the NBA are just getting to the stretch of their seasons.   Justice League came out and made a boat load of money but is still considered to be a failure so far.  Strange how those things get judged.
One Player is The Team
People always want to say that in Football one player does not make a team.  As it turns out that it not always true.  With the Packers the team with Rodgers is a playoff and possible Super Bowl contender.  With out him they are a bottom feeder.  There could be a few things going on here.  Either the team is really that bad without him or when he went down the team including the coaches gave up.
It is difficult to tell if the team is trying as hard as they did with Rodgers in.  In a time when other players need to step up, they have not.  Injuries to other players have also played a part in this.  The offensive line has turned into a group of five guys with no cohesion.  Rodgers would have had trouble with this line as well but would have probably been able to pull off some plays.    Hundley is clearly not the player that Mike McCarthy thought that he would be.  He has cracked under pressure and at this point will probably not be able to pull out of it.  He had a blip on the radar against the Bears.  But it was the Bears.
The telling game will be against the Browns December 10th.  It is possible that the Packers give the Browns their only win of the season.  If that happens will the Packer coaching staff have some major turn over? Probably not.
Onward and Upward
On the other side of things you have the Saints, Vikings, Steelers and Eagles.  They are all flying high right now.  I do not include the Patriots because well it is just expected of them.   They are where they always are.  The top of the AFC East.
The Vikings are much better than I expected them to be.  I thought they would be an alright team but not at this level.  If they keep playing like this they really could have a shot at being the first team to play a home super bowl.  The huge surprise is the Saints.  Who knew that they would be this good this year.
NASCAR is finally done
The crazy long NACSAR season is finally done.  Dale Jr. had an extremely average season.  It did how ever cap off an amazing career.  He will be moving to the NBC broadcast booth for next season.   He will be missed on the track.  It will be interesting to see what happens to the viewership next year win out him on the track.
Martin Truex Jr. won the cup.  The best thing about this is that it was not Kevin Harvick.  It was a fairly unexciting season.
For things to get in the right direction.  Next year some of the young drivers will really need to step it up.   I think that Chase Elliott it the driver that is going to make a big move next year.  He finished 5th in the standings this year and all things point to greatness for him.
The Stretch part of the Season is here for the NBA and NHL
What have we learned about the NBA and the NHL so far this year?  Nothing.  Well maybe a little.  In the NBA the Celtics are good and the Mavericks are bad.    The Cavaliers were looking a little of an unknown but now they have had a 5 game winning streak.  Everyone jumps to conclusions after a few games.  With how long these seasons are that is never a good thing.
In the NHL The Blue Jackets look they they are for real.  The Red Wings are looking like they will surprisingly contend for a playoff spot.  Tampa and New Jersey are going to be good.  Neither of those is a surprise.
When is $100 Million weekend a bad thing?
When Justice League came in at just under $100 million for the weekend it was declared a failure.  World wide it is at almost $300 Million.  Warner Brothers has declared that they expect to lose $50 million from Justice League.   I guess they would know their projections better than I would but it has not even been out for  a week yet.  What is the state of the movies that a movie that will pull in that much money will be a failure?   Is there a fix for this?  Who knows.  It is just really strange.
Check out last weeks post here